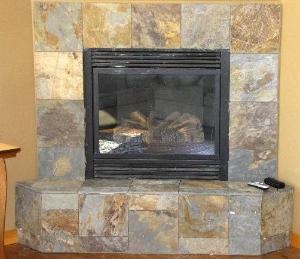 Stone is one of the oldest building and design elements. Having many of the same features as tile, the durability, permanence, easy cleaning, and low maintenance are all benefits. Stone can be rugged and rough or highly polished and exquisite. Listed below are some of the common types of stone tile that we install:

Slate - Decorative and natural, slate comes in a vast array of colors. It is durable enough for indoor or outdoor use and is commonly used around fireplaces, floors, walls, countertops, backsplashes and shower or tub surrounds. 'Gauged' slate tiles are cut to a uniform thickness and decrease problems associated with slate chipping or flaking. Slate is porous and should be sealed with a penetrating sealer.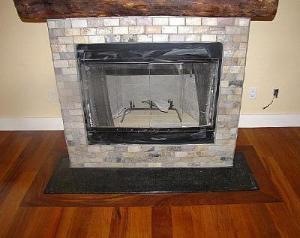 Marble - Elegant and beautiful, marble's veining and color variations create a luxurious look in any home. It is a soft, porous stone that works best in interior, low-traffic areas like kitchen backsplashes, shower or tub surrounds, walls or fireplaces. Polished marble should not be used in acidic areas (food prep areas, base of toilets) as the finish will etch and dull. Marble is more expensive and less durable than some other stone options. Should have a penetrating sealer applied.

Granite - Affordable, durable and elegant, granite is the earth's second hardest mineral. The speckled appearance of granite and the wide variety of colors available make it an excellent choice for just about any application in the home. It has become the new favorite for kitchen countertops. We recommend applying a penetrating sealer annually.

Limestone - Artful, and classy, limestone's natural colors of beige and tan blend well into most homes. It is an excellent choice for flooring, fireplaces, bathrooms and walls. It is sensitive to acids, so you should keep that in mind if considering it for a kitchen countertop. A penetrating sealer is recommended.

Travertine - Is a member of the limestone family, it is very durable but more susceptible to staining than granite or marble. Travertine usually comes in beige and natural colors for a subtle, clean look. There are natural voids in it that are either filled prior to purchase or left open. Travertine works well for interior, exterior, floors, walls, vanities and backsplashes. It is sensitive to acid.

Sandstone - Earthy with rich, natural tones, sandstone is one of the most durable tiles to use for heavy traffic areas. It is recommended for floors and walls. It will stain if not properly sealed. A sealer is recommended.

River Rock - Casual and natural, river rock can add a touch of whimsy to your stone tile project. Use it as flooring in a shower, or a backslash in kitchens and bathrooms. It also looks great around fireplaces.

Keep in mind that polished stone tiles are slippery when wet. Polished is appropriate in some areas, whereas honed or tumbled stone would be more appropriate in other areas.